Outdoor Storage
West Seattle
If you live in West Seattle and need a place to store stuff outside, West Seattle Outside Storage provides the perfect solution. Our outdoor storage lot, conveniently located inside Jack Block Park, is perfect for West Seattle outside storage.
Jack Block Park Outside Storage
Jack Block Park
In addition to being ideally located for folks living in Admiral, Alki & Alki Beach, Delridge, Morgan Junction, Westwood, Fauntleroy, High Point, The Junction and other West Seattle neighborhoods, this storage facility adjacent to Elliot Bay features 24/7 easy access. You can get to your boat, RV, camper, trailer, car, truck or property anytime of the day or night. Unlike many storage facilities this outside storage lot in West Seattle is open 365 days a year.
Best of all, Outside Storage For West Seattle is more secure than many facilities. The lot is inside Jack Block Park. Jack Block Park is patrolled by Port of Seattle Police. The outside storage facility itself is fenced.
Store Cars, Trucks, Boats, Trailers & RVs

Pass Through Archway to Access Storage Lot

West Seattle Outside Storage is the perfect place to store boats, campers, trucks, cars, kayaks, trailers & recreational vehicles. Commercial vehicles, such as food trucks, moving vans, moving trucks, buses and tow trucks are also welcome.
We DO NOT currently park 18 wheelers.
We operate a number of additional lots in the Seattle area and storage fees vary by lot location and time of year, so call 206-204-2222 for current rates. We make every effort to match or beat competitors.
Click here for a detailed map and directions to the storage lot at Jack Block Park.
---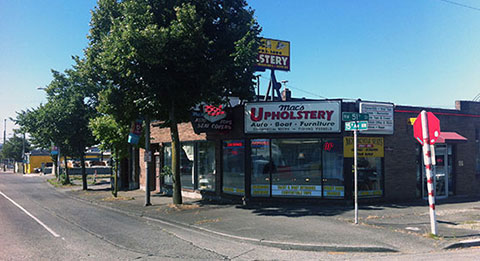 Our office is easy to find. We're located inside Mac's Upholstery on the corner of Northwest 51st Street and 15th Avenue Northwest, just north of the Ballard Bridge. The street address is: 5015 15th Avenue Northwest, Seattle, WA 98107.
Our storage facilities are perfect places to store boats, RVs, campers, trucks, cars, buses, & trailers. Commercial vehicles, such as moving trucks, food trucks, moving vans and tow trucks are also welcome. With several other outdoor lots now in service, you're sure to find a convenient location.
Click any of the locations below for further information.